Do You Need a Credit History to Lease a Vehicle?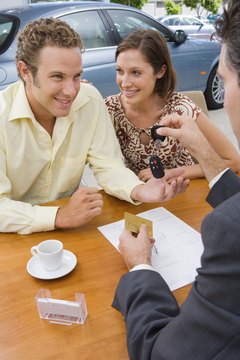 Similar to financing a car you want to buy, a dealership will look at your credit history and how much income you have when you go to lease a vehicle. If you have no credit history, a short credit history or a low credit score, you will need to make a larger cash down payment or trade in another vehicle at the time you sign the lease. You may also have to pay a security deposit to lease the car.
Some dealerships offer lease programs designed for customers with no credit score or a sub-prime credit score. Experian -- one of the major credit bureaus -- considers a credit score below 680 a sub-prime score, reports AutoNews.com. In that case, the dealership will charge you a higher interest rate. You pay more because without a credit history, you have no credit score to help the dealership determine how much of a credit risk you are.
When you don't have a credit history, a dealership may take into account other factors when reviewing your leasing application. For example, your employment history can play a big part. Not only does it show that you have a regular income, but if you've had stable employment for at least the past two years, that can work in your favor. Paying your rent and utility bills on time is another indicator of whether you are a high or low credit risk.
When you have no credit history, another option is to ask a family member who has good credit to co-sign for the lease. A co-signer with a very high credit score can help you get approved for a car lease and qualify you for a lower interest rate. Just like when co-signing for a loan, the lease will show up on that person's credit report, as well as on your own. If you fail to make the monthly lease payments, your co-signer will have to pay. It's important to make all your payments on time not only to protect your co-signer's credit score, but also to help build a credit history of your own.
Work on building your credit history before you go to lease a vehicle. Pay all of your bills on time, particularly credit card accounts. When you don't have much of a credit file and can't get approved for an unsecured credit card, apply for a secured credit card at the bank or credit union where you do business. A secured card can help you establish credit when the card issuer reports your on-time payments to the nation's three major credit-reporting bureaus -- Experian, Equifax and TransUnion. Keep the card's balance low and pay it off in full each month.
Is it cheaper to lease a car or buy one?
Could leasing a vehicle be a better option for you than buying one outright? Find out more with our guide.
Whether it's more beneficial to buy or lease a vehicle will depend on the individual circumstances
The way you drive and the vehicle you choose are both crucial factors
Do your sums with care and don't be swayed by sales talk
When you're in the market for a new car, there are a lot of decisions to make.
Should you buy with cash? Buy with finance?
How about leasing a car for a fixed period rather than buying one?
It's worth considering whether it might actually be cheaper to lease your vehicle, even though that means you won't own it outright and will have to hand it back when you're finished.
How can it be cheaper to lease a car?
One thing to get clear from the start is that this is not a general rule.
Some drivers can save money by leasing their vehicle instead of buying it, while for others it will be far cheaper to buy it with finance.
Admittedly it does seem pretty counter-intuitive that it can be cheaper to lease a vehicle.
After all, if you buy a car then you have a car. You can continue to drive it or sell it, whereas at the end of a lease you have nothing.
But you need to factor depreciation into your sums.
If the gap between the price of your new vehicle and its value after three years is more than it would cost to hire a car during that time, then you've potentially lost out.
How do I know if it's cheaper to lease or buy?
A lot of factors influence whether it's cheaper to buy or lease a car, such as the number of miles you drive and how well the car retains its value.
J Paul Getty, billionaire oil tycoon
For example, Which? looked at some specific car models † and found in its analysis that, while a VW Scirocco was worth 63% of its original price after three years, a new Ford Mondeo was typically worth just 36% of its initial value.
Because of that, the survey suggested that most people would be better off buying the VW Scirocco on finance, but leasing a Mondeo.
As a general rule, if a car has a good resale value then you're better off buying it. After three years you'd own a valuable asset, whereas with a leased car you'd have nothing.
But if the car plummets in value then it's probably cheaper to lease it, as you won't be bearing the brunt of the depreciation.
So look at the price of your new car and its predicted resale value after three years.
If you're driving an unusually high or low number of miles then factor that into your sums.
You can use websites like Autotrader to see the approximate value of your vehicle on the second-hand market.
Then you can work out how much those three years of driving will cost you, and compare that to the price of a lease car.
Just don't forget to factor in the deposit you pay as well as the monthly cost.
Remember that most leasing companies restrict the number of miles you can do in the car in order to protect their investment.
That means you'll be charged extra if you exceed that agreed annual mileage.
Do you need a new car every three years?
If you don't plan to sell your new car any time soon, then you could be better off buying it.
After all, once you've paid for it you can continue driving it and not pay any monthly amount for your motor.
However, if you've only leased a car then you'll need to either buy one or continue leasing one once you're done.
What about a personal contract plan (PCP)?
There is a sort of middle ground between buying and leasing a car. A personal contract plan means you pay a deposit then pay monthly instalments, but you also owe a 'deferred payment' at the end of the contract if you want to keep the car.
When the contract ends, you have a choice.
You can hand the car back to the dealer without making the deferred payment, leaving you with no car but no debt either.
Or you can make the payment and keep the car.
An option is to sell the car privately to repay the final amount owed - if the car is worth more than the debt then you can pocket the difference.
That gives you some flexibility over what you pay; if the car has kept its value then you can keep it or flog it, but you won't pay more than you agreed at the start of the deal. If the car is worth less, you can simply hand it back.
If you return the car it has to be in good condition. You'll also be asked to estimate your miles at the start of the contract - you'll have to pay a penalty if you've exceeded that.
Bear in mind that PCPs are usually more expensive than hire purchase deals, with larger deposits and monthly sums.
You pay for flexibility, meaning that PCPs are unlikely to be the cheapest option.
Does leasing affect your car insurance?
Most insurers are happy to provide cover for a leased vehicle, as this really isn't an unusual way of paying for a motor.
But you do need to make sure you have sufficient insurance; the leasing agency is likely to demand you buy fully comprehensive cover rather than just third party. After all, they need to know that their asset is protected.
Remember, whether you're leasing or buying, one definite way to keep the price of running a car down is to compare car insurance quotes.
If you let your insurance automatically renew, then you could be paying far more than you need to.
If you write off your new car or it gets stolen before you've repaid the finance, the insurance pay out might not be enough to repay the finance company what you owe - that's where Guaranteed Asset Protection (Gap) insurance comes in.
Gap insurance covers you for the difference between what the insurance company pays out and what you still owe on the car, so it might be worth considering if you've taken out car finance.
Bear in mind, though, that there have been criticisms of the Gap insurance industry so you should review all your options before committing to a policy.
Quotes from multiple car insurance brands
Compare rates and terms, apply online
† Please note, we cannot be held responsible for the content of external websites and by using the links stated to access these separate websites you will be subject to the terms of use applying to those sites
how old do you need to be to lease a car
Get via App Store Read this post in our app!
Leasing a car: Do I need credit approval for total lease amount, or full amount of car?
Say I want to lease a car. Dealer says $350/month for 3-years.
The car is $23,000 if buying in cash.
Do I only need credit approval for $12,600 ($350 x 36-months), or for $23,000 ?
Credit approval likely reflects the monthly payment more than the total amount borrowed. The bank will look at your ability to make that payment based on your salary, your other monthly obligations, (mortgage, credit card debt, other car payments, etc.) and they will price any risk if you are less likely to be able to make that payment.
You are doing an apples to oranges comparison when you look at the total amount paid over 3 years on a lease verses 5 years on a loan. If you borrow $23,000 on a 5 year note at 3%, with a monthly payment of $413 that uses a 5 year payoff (compared to your 3 year lease). A 5 year, 3% loan with a $350 payment would reflect a $19,500 loan. That's not that much lower than the $23,000 full purchase loan, except after 5 years you own the car outright, compared to the lease where you own nothing after three years.
So to try to answer your question, you would need to be approved for the equivalent of a $19,500 loan if you did the lease.
Want to drive but need a vehicle?
Choose a car to lease that suits your lifestyle, budget and needs to start earning money on the road.
There are no mileage caps, so you can drive as much as you want and never get hit with mileage fees. Plus, you get free basic maintenance.
Get access to popular cars with lease terms potentially up to 36 months. And just in case your situation changes, we offer a flexible return policy.*
Basic maintenance is fully covered so you can focus on driving—we take care of the rest.
Sign up for an Uber driver-partner account and say you're interested in finding a vehicle. Once your account is activated, log into your account and click to apply for Xchange Leasing. All credit levels are eligible to apply, even if you have poor credit, or no credit history.
Current driver-partners can apply directly by signing in to your profile at partners.uber.com and visiting the Vehicle Marketplace menu option.
What kind of cars can I get with the Xchange Leasing program?
Vehicles requirements for Xchange Leasing program:
No salvage title
4 full-sized doors
Minimum of 5 seat belts (driver and 4 passengers)
The Xchange Leasing program is designed just for Uber driver-partners, so you must be approved to drive on the platform to apply. This includes completing a background check.
If you are a current driver partner, you can apply directly by signing in to your profile at partners.uber.com and visiting the Vehicle Marketplace. If you are not an Uber partner, first sign up to drive with Uber. After you've completed your background check and are approved to drive, you can apply for a lease at t.uber.com/findash.
After I apply, how will I be notified of my credit decision?
If you are approved for a lease, you should receive an email shortly after you apply with your approval details. If you are not eligible for a lease, you will receive a notification by email with a secure link to view your credit decision details.
I was approved for a lease with Xchange Leasing. What's next?
After you're approved for a lease, the Xchange Leasing team will contact you via email or phone with a list of participating Xchange Leasing showrooms or dealerships in your area. You can also sign in here and see a list of locations for Xchange Leasing in your city. Please set up an appointment and visit one of our locations to choose your car.
What do I need to bring to my appointment?
Once you've applied for a lease online and been approved, please bring the following items to one of Xchange Leasing's locations to pick your vehicle and sign your lease:
A valid driver's license
Your security deposit (cashier's check, money order, or a debit card)
Your bank account information, including routing and account numbers
One proof of residency document, like a utility bill, bank statement, or mortgage/lease agreement
How much is the security deposit?
Please refer to your pre-approval email for the exact deposit amount you're eligible for.
Vehicle insurance is required to lease a car through Xchange Leasing. Curious how much insurance will cost? Since insurance rates depend on a lot of factors and vary from person to person, the best way to estimate costs is to get a quote from an insurance provider. In the state of California, you are required to have rideshare insurance.
* Flexible leases from Xchange Leasing, LLC are potentially up to 36 months with the flexibility to return the vehicle as early as 30 days after the first payment due date with a payment of a $250 disposition fee. Not all applicants will qualify for this program. Certain items present on your credit report, and other information, may cause you to be excluded from this offer, including without limitation, a repossessed vehicle within the last 12 months, a pending bankruptcy, or a discharged bankruptcy within the last 12 months. To qualify for this program, you must sign a "payment deduction authorization agreement" with Uber under which you authorize payment of your lease payments from your Uber earnings. The Xchange Leasing program is not available in all cities. Weekly payments do not include taxes, fees, and license. The majority of eligible vehicles will be pre-leased and/or pre-owned inventory. See full sample lease terms.
7 Reasons Why You Shouldn't Lease A Car
August 25 By Natalie Bacon 34 Comments This post may contain affiliate links. Read the disclosure policy.
There are 7 reasons why you shouldn't lease a car.
I was listening to The Dave Ramsey Show on my ride into work. Dave took a call from someone who tried to convince him that whole life insurance is a good idea. Besides the fact that neither Dave nor the caller changed their opinions by the end of the call, it was amusing and informative. Among other things, Dave said that a whole life policy is a bad financial decision, just like he thinks it's always a bad financial decision to lease a car. Dave's comment about car leases was not the point of the call, but it stuck with me.
Broke people think 'how much down and how much a month'. Rich people think 'how much'. If you can't pay cash for a car, then ride a bicycle. But don't lease a car. – Dave Ramsey
Here are the main reasons that car leasing isn't a good idea.
1. You should accumulate assets that go up in value
A car is an asset that begins depreciating the minute you drive it off the lot (and continues to depreciate over the life of the car). I want to build up my assets and build wealth. After reading Rich Dad, Poor Dad by Robert Kiyosaki, I know that I need to accumulate assets that increase in value over time in order to build wealth. Assets appreciate over time and liabilities depreciate over time. Cars depreciate over time. Leasing a car is like renting an asset that is guaranteed to depreciate in value over time.
When you lease a car you're essentially renting it. The car remains an asset of the dealer. You don't own it. It's like renting an apartment versus buying a home except that over time a house will generally increase in value and a car will decrease in value.
3. You must pay the full lease amount after an accident (even if your car is totaled)
If you get into an accident with the car you lease, you're responsible for the repairs and for continuing to pay the full lease payment. If you total your leased car and get money back from the insurance company that is less than what you owe to the dealer, you are still responsible for repaying the dealer the full lease amount. You'll have less money to buy a new car and still have to continue to pay on the initial lease.
4. Leasing creates the habit of having a car payment
If you get in the habit of paying a lease payment, you're essentially making a habit of paying for something you don't own. I believe in creating positive success habits that promote wealth. A car lease works against this habit. Instead, you could take your $350 lease payment and save it until you have enough to buy a car that you own.
5. You're restrained by miles and time
A lease agreement typically has year and mileage limits. If you go over your mileage but continue to keep the car until you reach the year limit, you're going to have to pay extra per mile (in addition to your lease). Usually the mileage is pretty limited, such as 10,000 to 15,000 miles per year. And at a rate of $.20-.25 / mile, this can get expensive fast if you don't budget your miles appropriately.
6. If your leased car is repo-ed and sold for less than you owe, you are responsible for the difference
If something happens and you can no longer make your payments, the dealership will repossess your car and sell it. If the car is sold for less than what you still owe on the lease, you're responsible for the difference. So, you'll have to pay the difference and be without a car.
You have to pay to lease the car at a monthly rate, plus any additional wear and tear on the car as if you owned it. So, if your lease payment is $350 / month, after 60 months, you'll have paid $21,000. That doesn't include all of the money you'll owe for any additional mileage, repairs, and wear and tear.
And if you want to buy the car after your lease is up, you'll have to pay what it was worth (fair market value) at the beginning of your lease – not at the time you turn it back in.
Finally, you'll pay interest rates on car leases to make your payments even higher.
Leasing is really only acceptable if you are filthy rich and don't mind a depreciating asset to throw your money into.
Otherwise, you're better off buying a car.