LLOYDS BANK PLATINUM CREDIT CARDLow Rate
The low-interest credit card that can be your perfect shopping partner
Depending on your circumstances, you could receive interest rates as low as 5.69% (variable).
You'll also pay no fee on balances transferred within 90 days of account opening, instead of the standard 3% fee.
There is no annual fee to pay.
Most successful applicants will get:
a variable annual
purchase rate of 5.69% and a variable
representative 5.7% APR based on borrowing
£1,200 over 12 months,
with an annual fee of £0
Credit limit and interest rates vary based on your individual circumstances.
The Platinum Low Rate credit card has a low representative APR of 5.7% (variable). Most successful applicants will receive this rate.
The standard 3% balance transfer fee is reduced to 0% for balances transferred within 90 days of account opening.
If you already hold a Lloyds Bank credit card, you may still be eligible for this offer when you apply for a second card.
Manage your credit card with Internet Banking, the Mobile Banking app, Telephone Banking, in branch, and also get free Text Alerts.
If you don't qualify for the lowest rate, you'll get a higher APR, either 10.9% (variable) or 14.9% (variable), depending on your circumstances.
To keep your promotional offers, you must stay within your credit limit and make your minimum monthly repayments on time.
Any balance transfers made after 90 days of account opening will incur the standard 3% balance transfer fee.
You can transfer balances to us (£100 minimum) from most credit cards and some store cards, excluding other Lloyds Bank products.
If your application is successful, your credit limit and any applicable promotional rates will be based on your current status.
Already have a credit card with us?
Summary box of rates and details
Our responsibilities - and yours
You can apply for a second Lloyds Bank Credit Card, subject to the following conditions:
You don't already have a Classic or Student credit card with Lloyds Bank.
You can only have one Rewards credit card account, even if the second Rewards card you want to choose is different to your existing Rewards card. The Rewards credit cards we currently offer are Avios Rewards, Premier Avios Rewards and Choice Rewards.
You can only have a maximum of two credit cards with Lloyds Bank, and a maximum of five with the Lloyds Banking Group (which also includes Halifax and Bank of Scotland).
You're not applying within 60 days of having opened your first credit card with Lloyds Bank.
Your application is subject to a full credit check.
This credit card account has an annual fee of £0.
Outside of introductory promotional periods, the interest you pay on transferred balances, cash transactions, and purchases is 5.69% (variable) if you qualify for the lowest rate and either 10.94% (variable) or 14.94% (variable) if you do not.
Outside of introductory promotional periods, the interest free period on purchases is up to 56 days if the full balance is paid off by the due date on both your previous and latest statement.
Outside of the 90-day introductory offer period, the fee for balance transfers is 3%.
The fee for cash transactions is 3% or £3, whichever is the biggest.
The fee for foreign currency transactions is 2.95%.
Your monthly payments will pay off balances with the highest interest rate first, in this order: cash transactions, purchases, balance transfers and money transfers, and then default charges (plus any interest or charges incurred as a result of those balances).
The information contained in this table summarises key product features and is not intended to replace any terms and conditions.
Balance transfers: not applicable.
Money transfers: not available.
- Maximum 56 days for purchases if you pay your balance in full (including any balance transfers and money transfers) by the payment due date and you also paid your previous month's balance in full by the due date.
- No interest-free period cash transactions.
- There is no interest free period for balance transfers or money transfers (if available) where these are outside promotional offers.
- Annual fees: We do not charge interest on annual fees (see below for details of whether your card has an annual fee).
- Purchases: We do not charge interest on purchases during the interest free period, as detailed above.
- Default charges: We do not charge interest on default charges for the first 28 days after the day we give you notice (usually in your statement) that these charges are payable. After that we charge simple interest, so we will not charge interest on interest.
If there is more than one type of balance at the same interest rate, they are paid off in the following order: cash transactions, purchases, balance transfers and money transfers, and then default charges (plus any interest or charges incurred as a result of those balances). For each type of balance, your payments will pay off the oldest balance (and related fees, charges or insurance) first.
Credit cards are designed to be a flexible form of borrowing. Paying the minimum amount every so often can help you manage your money more effectively, although we would not recommend that you make minimum payments for a long period of time once your promotional offers have ended. Once your account is open, you can set up a Direct Debit for any fixed amount over the minimum payment by calling 0845 606 2172. Lines are open 24 hours a day, 7 days a week.
For longer term borrowing it may be more appropriate to choose a loan from us. If you would like to find out more about this you can call Lloyds Bank Personal Loans on 0800 092 6290, or visit lloydsbank.com/loans or call into a Lloyds Bank branch, where our staff will be happy to help.
The following example highlights the difference between only paying the minimum and paying a fixed amount:
For a purchase of £1,000 on your Lloyds Bank Low Rate Credit Card.
The above example assumes the following:
The transaction takes place on 1st January and you make no further transactions.
You always make the payment each month on the 15th.
Your statement is produced on the 1st of each month.
You are on the best rate available for this card.
Lloyds Bank is a responsible lender and we only want you to borrow what you can afford and in a way that is best for you. If you'd like to talk to us about the choices you've made or you would like further information, please contact us. We will also be able to help you if you're experiencing financial difficulties.
A full set of Terms and Conditions specific to you will be issued once you've been accepted for the Credit Card.
Our responsibilities - and yours
Lloyds Bank is a responsible lender, and we only want you to borrow what you can afford, in a way that is best for you. The outcome of your credit card application depends on our assessment of your circumstances.
You won't have to pay us for any unauthorised postal, telephone or internet transactions made by someone other than you or an additional cardholder. However, you and additional cardholders must take all reasonable measures to protect your cards and PINs. You should never disclose your PIN, not even to Lloyds Bank staff or the police. You can give suppliers your card details (but not PINs) and won't be liable if they misuse them. However, if you've given someone else your card details you are liable for all transactions unless you have told us first they are not authorised.
You can apply for this credit card if:
you're aged 18 or older
you're a resident in the UK
you have a regular income
you're free from any County Court Judgements, you aren't currently bankrupt, and you aren't subject to an Individual Voluntary Agreement.
The application process typically takes about 10 mins Apply now
Lloyds Bank plc is authorised by the Prudential Regulation Authority and regulated by the Financial Conduct Authority and the Prudential Regulation Authority under registration number 119278. Authorisation can be checked on the Financial Services Register at www.fca.org.uk. Eligible deposits with us are protected by the Financial Services Compensation Scheme (FSCS). We are covered by the Financial Ombudsman Service (FOS). We subscribe to the Lending Code; copies of the code can be obtained from www.lendingstandardsboard.org.uk.
Lloyds Bank plc registered office:
25 Gresham Street,
London EC2V 7HN.
Registered in England and Wales No. 2065.
Terms and conditions apply to all Lloyds Bank credit cards benefits. Full details will be sent with your card. After each introductory period ends you will be charged at the appropriate standard rate.
We may monitor or record telephone calls to check we have carried out your instructions correctly and to help us improve the quality of our service. Calls from abroad are charged according to the telephone service provider's published tariff.
Credit Limits on Top 12 HDFC Bank Credit Cards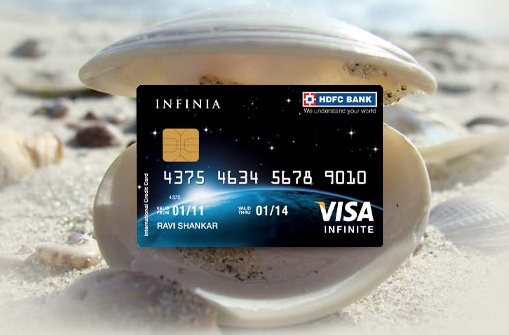 Just applied for HDFC credit card and wondering what Credit limit you're likely to get? see below for the list of popular HDFC credit cards with expected limits as on 2016.
Beginner & Premium HDFC Credit Card Limits:
HDFC Moneyback Credit Card Limit: Rs.25,000 – Rs.1,50,000
HDFC Allmiles Credit Card Limit: Rs.1,00,000 – Rs.2,50,000
JetPrivilege HDFC Bank World Credit Card Limit: Rs.2 Lakhs – Rs.5 Lakhs
HDFC Regalia Credit Card Limit: Rs.2 Lakhs – Rs.5 Lakhs
HDFC Diners Club Rewardz Credit Card Limit: Rs.25,000 – Rs.1,50,000
HDFC Diners Club Premium Credit Card Limit: Rs.1.5 Lakhs – Rs.5 Lakhs
HDFC Business Platinum Credit Card Limit: 25,000 – 1,50,000
HDFC Business Moneyback Credit Card Limit: 25,000 – 1,50,000
HDFC Business Regalia Credit Card Limit: Rs.2 Lakhs – Rs.5 Lakhs
HDFC Infinia Credit Card Limit: Rs.10 Lakhs & Above
HDFC Diners Club Black Credit Card Limit: Rs.10 Lakhs & Above
JetPrivilege HDFC Diners Club Credit Card Limit: Rs.7 Lakhs & Above
Increasing your HDFC Credit Card Limit:
While these are expected lower/upper limits on the mentioned cards, you can expect even higher credit limits on beginner cards based on these 5 Factors Influencing Your Credit Card Limit almost with any bank. Usually when you reach the upper limit of the cards mentioned above, you will get a free offer to upgrade your card to the next better card.
Upgrade offers with HDFC shows up every 3-6 months once and it depends on each customer profile. Sometimes you'll also get credit limit enhancement on your card along with upgrade, provided your usage and payment pattern is good. Need better Credit Limit? here are 7 proven steps to increase Your Credit Card Limit easily. Got queries? Drop your comments below.
I'm a Credit Card freak minting reward points and cashback for years. Obsessed with aviation, airport lounges and luxury travel at affordable cost.
74 thoughts on " Credit Limits on Top 12 HDFC Bank Credit Cards "
Today only I applied for upgradation to Regalia through my RM and just now I received an Email confirmation that my Card can be upgraded To DINERS Rewards..
Now the question Is How can I be eligible for Regalia but Not Diners Premium..
2ndly If I have to choose b/w Rewards and Regalia which way should I go..
Pls advice, thanks in advance
RM generally doesnt know much. Ask bank directly over email.
If you're eligible for regalia, Diners premium is easy to get.
Rewards or Regalia: answer is, if you want 10x rewards, go for Rewardz, else Regalia.
Yes I also had good experience about HDFC card services. One of the topmost bank is HDFC. From. 20000 limit now I have highest limit 7.50lakhs. every month I m getting some offers like Insta loan jumbo loan at lower rate interests
Thanks HDFC program manager thinking such good thinks about customer.
I am having hdfc money back credit card with limit of rs 30000. I want to enhance my credit card limit. Please guide me
Send your latest salary slip and request for a limit enhancement.
My currently sallary is 32000 in this basis what would be my credit card limit .
About 1 Lakh. However, it depends on lots of factors.
Yes you can try icici bank SBI or HDFC bank
My salary is11000 how much my credit card limit will be
Credit card itself is not issued for less than 20k salary range in most banks.
my salary is 25k pm .i want a credit card of above 1 lakh limit.
How can i apply for that n which one.
Tough to get 1 L limit with 25k Salary for first time.
You will generally get 2X to 3X of your monthly income.
hi, my salary is 39k. money back credit card offered me with life time free.but now i called customer care to confirm this now they are telling 575 rs per annum. Now what is the procedure to cancel this? why they give wrong information when offering a card.?
Not to worry. There is a spend based waiver. Try to reach that.
Now I got Hdfc credit card of 50,000 limit, now in future I want to increase the limit, so what are the points to take care. Thanks
i want to apply a credit card and my total salary is 30k but i get in hand after pf+pt deduction around 27,160rs. please suggest me a very good card where i can use for fuel, shopping and other things with cashback also. i want a card with min limit 50000 and max limit 1lac or below 1lac. please suggest me because i want to apply asap.
The credit limit of my HDFC Moneyback Credit Card is 3 lac. Can this be enhanced further? What is the higher limit?
Certainly, based on the income.
My currently sallary is 20000 in this basis what would be my credit card limit in HDFC Bank?
Please respond any one.
2X to 3X initially. You can expect around Rs.50,000
I have regalia credit card of limit 416000.i want to upgrad it to infinia .but my itr is too low about 4lakh .am i elligible for infinia.plz tell m
4L income is too low for Infinia.
Hello sir my credit carfd limit is 65000 how to incress limit online
The bank is not very rigid about these limits. While receiving a higher limit than the max mentioned here is possible, it's even more possible to get a lower limit. My card path with HDFC is Platinum Plus EMV => Diners Rewardz => Diners Black. With Platinum Plus EMV I initially had 84K which was doubled in a year considering my spends. Then when the card expired I got it upgraded to Diners Rewards (based on my request) and the limit was enhanced to 2L. I used this card for 3 years till it expired. In the course of this time the credit limit was enhanced to 2.6. Close to the expiry of the card I requested for upgrade to Diners Black. I was instead given option to upgrade to Regalia as the min limit for upgrading to Diners Black was 3L in your current card. But since my limit upgrade was due I chose it and had the limit enhanced to 3.6L and then got the card upgraded to Diners Black with a limit of 4L. But I had to give bank statements and current salary proofs again as this was quite an upgrade. I've been a HDFC credit card customer for more than 6 years now. My next target is Infinia but for me Infinia is more of a prestige card because no card has been as beneficial as the Diners Black for me at least.
Vikram how much was your salary everytime when you asked for upgrade and what was your mode of upgrade ( RM, Customer Care or form to Chennai ).
I have been issued Diners Rewards with Limit of Red. 150000/-, whereas my annual income is above Rs. 8 lace. Can I apply for upgradation and if so to which card of HDFC. Please suggest?.
You can upgrade to Diners premium or Regalia after 6 months. Depends on your needs.
hey siddharth , i got a credit card from hdfc and my salary is only around 11,500,the bank is giving credit cards for only the employees where i m employed at less then 20k salary.In that case what would be my limit? and why they issue credit cards when the limit amount is close to the salary? as if i want to buy some item worth 20k or 15k,i would rather wait for a month or two to save that amount,is there any perks of using credit cards ?what are the interest rate on using the cards for payments apart from the annual fee they charge?
interest varies a lot based on offers and card. Initial credit limit is usually 1x to 2x of your monthly salary.
Hi I have Platinum plus Hdfc credit card of limit rs 95000 and I want to upgrade it to regalia and increase limit to 4 lakh.My ITR is about 10 lac. what should I do.i called Hdfc customer care and they said they don't have any offer for upgrading.and limit is usually 80% used of my credit card. what should I do.please guide.
You can ask for limit enhancement every 6 months. Tough to get 4L limit straight away.
Hi Siddharth, My current salary is 23.7Lakhs and is using Regalia card from last 6-8 months (credit Limit 3 Lakhs).
Can you please advise if i can go for Diners black card directly or should i increase the credit limit first and then go for the diners black ? Also how much are my chances of getting a Diners card ?
Thanks in Advance.
You've got 99% chance.
Apply for Upgrade + Limit Enhancement and you'll certainly get the card
Thanks a lot Siddharth for the reply I will go for upgrade + Limit Enhancement as per your suggestion.
Sorry for bugging you again – If i will go for Diners black CC upgrade …do i need to pay every year the annual fee ? and what is best procedure to upgrade – through calling customer care or going to bank branch or through email(if any ) ?
Thanks in advance
branch is better for premium card upgrades. Fee depends on your card usage etc. You can get waiver too on 5L/yr spend.
Thanks again for your quick response
Today i got my Diners black CC. Thanks a lot for helping me out for earlier queries
I just have one small doubt – The add on card for my parents also will have the same rewards criterion the one that primary holder is having ? i believe answer is Yes…just wanted to confirm with you once.
Thanks as always
My Gross Salary is 25200/- PM i.e 3 Lacs PA, after deduction i receive 20500/- in hand,
Please suggest me good credit card for shopping and also can you let me be know the credit limit which i can get on the basis of this salary, Im applying for credit card for the first time at HDFC (Mumbai)
Hey Siddharth. First of all tks to u for suggesting me earlier also.
I have annual salary of Rs. 8 lac plus. Which card would be good for me in terms of annual fee or without fee and spending is Rs. 1.5 lacs plus.
Regalia will be an allrounder card for you.
I want indusind bank credit card….but problem is that . What is the salary criteria for it. Which card is better from indusind,hdfc,icici,citi.banks
thanks, your website has useful information. Definitely more useful than my RM.
Lol, thanks for the kind words.
My dad's offical net salary after deductions is about 11000 under central government. Also we got a lot more income from other sources. Past/civil record is clean. Not a single defaulter in any case! I want a credit card of limit 30,000-40,000 on basis of salary. Is it possible?
Other sources reflects on ITR?
If so, you may get similar limit.
No it isnt shown in the ITR. Is it not possible to get credit card for this much amount of salary,I.e,11,146. .
I am mohit sharma..I am currently taking 30 k per month salary . Currently holding regalia First Card . but my credit limit is under 1.5 k as per the supporting documents for the credit limit enhancement i had applied for it but it doesn't support not more to increase the limit of my card as per my expectation its only increas 20 k in my current limit.is there any other way to increase the limit of card..Thanks
Hello sir , I have fixed deposit of 25000 .how can I get a credit card and how much in sbi
Check out the nearby branch.
hello siddharth , i am getting my basic salary in net is 12,402. for which credit cards i am elgibile and for which bank
You need 18k/m salary to get approved for credit cards.
I AM USING HDFC MONEYBACK CREDIT CARD
I AM HAVING A LIMIT OF RS 75,000
HOW CAN I UPGRADE TO A BETTER CARD.
I AM NOT GETTING ANY BENEFITS WITH THIS CARD.
I AM SELF EMPLOYED AND NOT ITR
as my salary was 30k per month..i need credit card..what is maximum limit for my salary..how to apply?give contact num
I have the HDFC Regalia CC with a recent credit limit upgraded to 4.87 lakhs
I also got the SBI Elite CC but with a low credit limit of only 1.83 lakhs (This card is just a month old)
Do you think I should drop out the ELITE CC after 1 year (Since Regalia is life time free, better perks, facilities, rewards)
I was expecting at least 5 lakh credit limit on the SBI ELITE but was disappointed
Purpose of credit card
1. Family care expenses
2. Utility bill payments
3. Flight bookings (Atleast once in 3 months)
4. Luxury brand or online shopping (Once a month)
5. Dinning/outing (Once a week)
Based on these lifestyle factors, do you think I should just stick to the Regalia card and drop out the SBI Elite (It is just like a status symbol and adds no value for me)
SBI Elite is good if you spend around 8L a yr or even 10L to get waiver. Else its of no big use.
I AM USING HDFC jetprivelege titanium CREDIT CARD
I AM HAVING A LIMIT OF RS 81000
HOW CAN I UPGRADE TO A BETTER CARD.
I AM NOT GETTING ANY BENEFITS WITH THIS CARD.
I AM SELF EMPLOYED AND having an itr of 468000, but till now not a single benefit gained from hdfc credit card deptt, how can i upgrade to better card with easy emi & jumbo loan and insta loan facility
Hi how can I upgrade my money back cc to diners rewards card?My salary is the very same but have a good spending record with my money back card.Please guide?
Hi my current salary is 60000 and my card limit is 30000 which ia from the last 9 months ..How would I get limit increase..I have recently upgrade my card from money back to regalia first..
Hi Siddharth. My salary is 2 lakh.. I do not need a credit card.. sparingly use my dad's.. now thinking of getting one for myself.. which one should I get.. looking for money back or air miles
Limit is per month . Or year. . I have 25000 limit. When I use emi. supposed I purchased 25000 in emi . Next month how much limit I have . Please tell me sir
Hello sir, Myself Vikas, my net salary is 15800 and I have HDFC Snapdeal credit card with limit of 32000. Can I upgrade the card or apply for the another bank credit card?
I have HDFC money back card with limit of 182000, and hdfc offering me now hdfc regalia card for life time free, shall i accept the offer ?Actually I m not getting any loan from money back card how I can eligible for loan if i upgrade my card ?
Yes you should upgrade to regalia. Its a better card. Use the card and u will eventually be eligible for a loan.
I have a credit card its limit is 40000. But sir I haven't no salary slip no I.T.R because I m a farmer how can I upgrade my limit. Plz give me solution.
My annual salary is 90,000 and have HDFC credit card with limit 3.5 lakh. I am scared fraud transaction/fishing so should I request bank to reduce the limit or it is fine to let it as is. Will there be any relation between credit limit and loan limit while applying house loan or so?
i am a self employed business person with an annual income of 335000.i have a current account with hdfc Bangalore.
am i eligible for credit card.i am first timer. pls update me
unfortunately my credit card application is in process since 3 months.no body from hdfc is giving proper information to me.
Before 4 months back my cibil score is 690 at that time i try for 3 r4 credit cards but it rejected ,now my cibil score is 775 than also i am not getting any pre approved credit cards and my salary is 32000
How many days will take my cibil score to show in bank records to give me pre approved offers
And i have 7 more enquirers about credit cards so i am waiting for pre approved cards
Sir my sallary is 20000 how much credit card limit will be given for me and recovery time and interest rate how much
mine is a business regalia first credit card i want to know the limit of card can u inform
Sir, I have a regalia first credit card with a limit of 200000. I have a query which might seem silly. If someone pays their dues way before the last due date isn't the available credit limit reset in the next billing cycle back to the original amount minus the pending charges
Which type of Credit Card is best for 20 k Salary Holders.
How I Increased My Overall Credit Card Limits By 22 Percent
Simon Zhen
Increasing your credit card limit is one of the easiest ways that you can boost your credit score, especially when you haven't displayed any poor credit behavior (e.g., late payments).
Over the long run, regular credit limit increases (CLIs) will help improve your ability to qualify for major loans (i.e., a mortgage). It's part of the reason that I make a note to ask for credit limit increases. This is my personal experience of what happened when I asked for credit limit increases for three credit cards I own and use regularly: American Express, Chase, and Citi.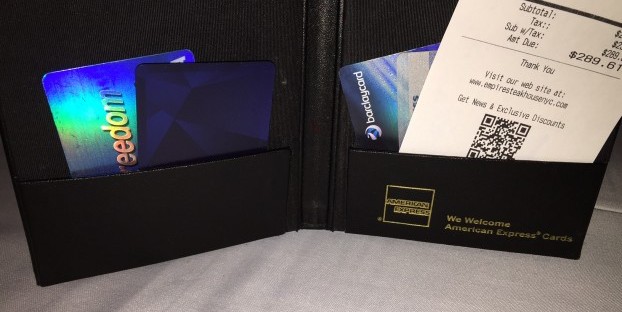 The perks of a higher credit limit include more spending power and better credit scores.
Like many consumers, I never really went out of my way to request CLIs. I would just let the card issuer offer increases automatically, or I'd ask for a CLI when I happen to think about it, which would be once every year or two.
However, I'm still relatively young and want to continue to build my good credit, so I decided to take a more active approach and ask for these increases.
In July 2014, I decided to ask for credit limit increases on a regular basis. It's been nearly eight months since I last performed this task on all three of my credit cards from American Express, Chase, and Citi. So, I decided to do it again. See how I increased my overall credit limit by 22 percent, and how you can boost your credit card limits:
It is incredibly simple to ask for a CLI with American Express because you can do it online. I just logged into my online account and clicked the "Credit Management" option under the "Profile" tab.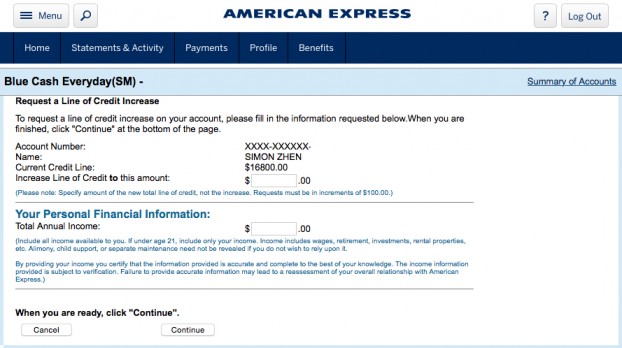 American Express just asks for two pieces of information when you want a credit limit increase.
After verifying my card number, I entered my desired total credit limit along with my annual income. Picking the desired total credit limit can be tricky if you want the highest possible credit limit without getting denied. I decided that a 50 percent increase didn't seem too ambitious so I asked for $24,000.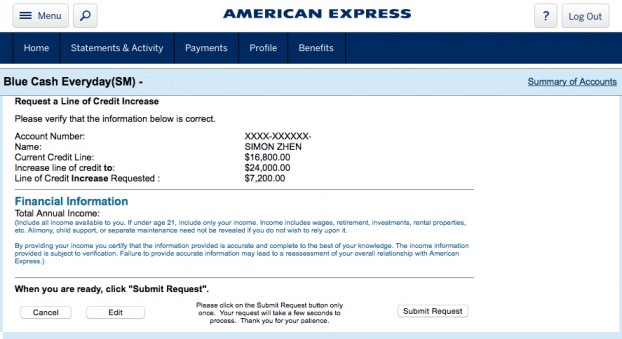 American Express did not say that it would pull my credit report for my CLI request.
Lesson learned: Don't be afraid to ask for a little more than you originally expected to ask for -- you may still get approved for a credit limit increase, but it might not be as much as you wanted. To my merry surprise… I was instantly approved for a new credit line of $24,000, up from $16,800 (a $7,200 increase). Also, American Express did not even pull my credit report.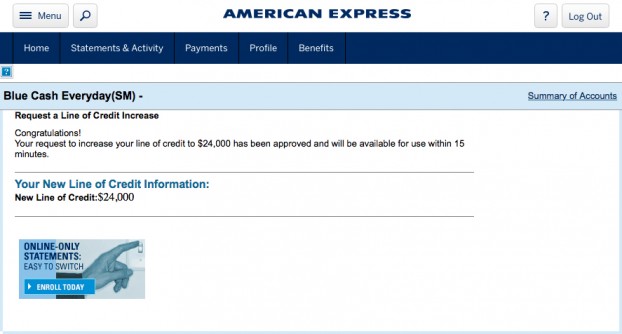 An instant approval message informed me that the new credit line kicks in after 15 minutes.
Chase requires that credit card customers call to request a CLI -- there is no online option for that request. Call the number on the back of your Chase card (the number is 1-800-524-3880 on the back of my Chase Freedom ® card) to speak with a customer service representative about a CLI.
Eight months ago, Chase bumped my Chase Freedom ® 's credit limit from $5,000 to $12,000, which is a rather significant hike, in my opinion. For this previous request, the rep told me that I would have to agree to have my credit pulled -- I agreed reluctantly, and he said that I would have to wait for a response in the mail. (Having a "hard pull" on your credit means your score will temporarily take a dip -- by how much and for how long, only the credit bureaus know.)
He also asked for my desired credit limit and a reason why I wanted that limit. Again, I wanted to ask for a little bit more than I normally would and asked for $12,000. My "excuse" was that I had an upcoming vacation and wanted a larger credit line to have more spending room.
One week later, I got a letter stating that I was approved for the limit. Just to follow up, I also checked my free credit report to see if Chase really did pull it. There was no record that Chase tried to pull my credit report. Therefore, there was no hit to my credit score for this credit limit increase!
Lesson learned: When asking for credit limit increase, a card issuer might request permission to access your credit report. It doesn't meant that the card issuer will actually do it. Either way, check your free credit reports (you get three for free per year) to verify if they did. This week, I called again and I got the same response to my request: my credit report had to be pulled. Since I got lucky that they didn't pull my credit report last year, I'm sure they will actually do it this time. Therefore, I opted to not proceed with this CLI request right now.
Like American Express, Citi allows credit card customers to request CLIs through their online accounts, under the "Account Management" tab.
I had to provide my annual income and my monthly housing expense. Citi didn't ask for my desired credit limit.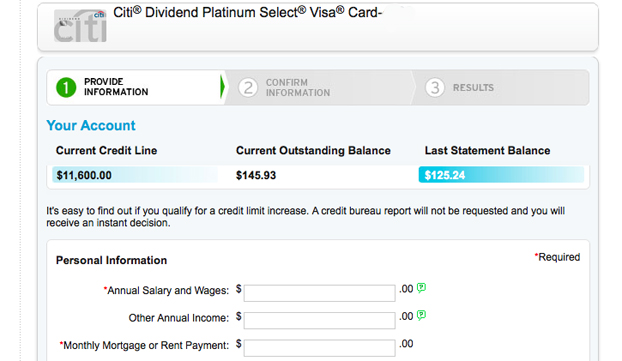 Citi asks for a little more info when I want a CLI.
Instantly, the credit limit for my Citi Dividend card was increased to $13,500, up from $11,600 (a $1,900 increase). I could ask for more but Citi would pull my credit report for that request, so I just left it at that.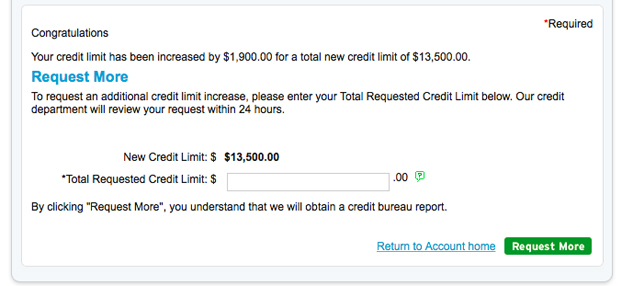 Citi will ask to pull your credit report if you're unsatisfied with the automatic CLI.
Ways to improve your chances of getting a CLI
Keep CLI requests at least six months apart
Credit card issuers want to see your spending and repayment patterns after increasing your limit. In fact, for new American Express credit cards, credit limit increases are immediately denied in the first six months.
Prove that you can be responsible with your current credit line before asking for more. I'm in no rush to boost my limits so I'd probably do it every 8-12 months. If you have extremely low credit limits and are looking to boost your credit scores, you should ask for it every six months. See how one person used CLIs to help her get a near-perfect FICO credit score.
Use your card often, but pay it off on time
By showing that you actually need the higher credit limit, you're more likely to get it. In the past few months, I actually racked up a balance of more than $8,000 on my American Express, which may have played a role in that massive CLI for which I was approved. Most importantly of all, make sure that you pay the credit card bill on time. I hate paying interest so I always pay off the entire balance.
Show higher income and lower expenses
Having a higher income and lower expenses simply points to the idea that you have enough cash flow to repay your debt. Those are great financial credentials that justify a credit limit increase.
Card issuers are approving higher limits more regularly
According to a February survey by the Federal Reserve Bank of New York, the approval rate for higher credit card limits increased to 76 percent, up from 61 percent in October. It's a sign that credit card issuers are willing to provide larger credit lines to U.S. consumers.
This is a good indication for those who are seeking to boost credit card limits.
How Credit Card Limits Affect Your Credit
Many people look at their credit card limits and may be perfectly happy with them. Those spending caps may already be more than they'll ever need. As a result, they don't feel the need to ask for a credit limit increase. Rather, the higher credit line could be seen as a trap for overspending.
However, it could be argued that the benefits of larger credit lines will outweigh the risks. With sizable credit limits, your credit scores are likely to improve, which increases your chances of getting lower interest rates on major loans.
For example, over the course of a 30-year mortgage, you could avoid tens of thousands of dollars in interest charges because you had a slightly better credit profile.
The FICO credit score is the most used credit score among major U.S. lenders when it reviews loan applications. A whopping 30% of your credit score is determined by how much of your borrowing potential is being used. This percentage is calculated by dividing your total debt by your total credit limits.
With higher overall credit limits, you're more likely to use less of your borrowing potential. To lenders, it'll appear as if you're not relying heavily on credit. As a result, credit line increases generally tend to raise your FICO credit scores as long as your debt levels remain low. Typically, consumers are advised to use no more than 30% of their credit lines.
Tip: Your balance is typically reported to the credit bureaus once per month when your statement cycle ends. You can make payments before this time in order to minimize the balance that is reported to the credit bureaus. Now that you know the benefits of a higher credit line, you may consider requesting them on a regular basis. Just mark it on your calendar to remind yourself a couple times a year.
Increase Your Citi Credit Card Limits
Editor's Note: Here's a Saturday bonus article since I didn't technically write an article yesterday
Most of the time when I get mail from Citi it's junk mail like offers for balance transfers, adding an authorized user or those paper checks. Does anyone actually use those stupid checks that probably charge 30% interest? I sure don't and any time I see a letter from Citi, I open it, scan it quickly and almost always throw it away. But the other day, I got an offer that was actually pretty enticing.
It read something like this: "Citi is offering you the chance to increase the limit on your Citi AAdvantage Card ending in XXXX. There is no cost and there will be no inquiry into your credit for requesting an increase. Sign on now and receive an instant decision."
I had to re-read the offer a couple times before it finally sank in. Citi was going to let me increase the limit on my card without doing a hard inquiry into my credit. For a professional credit card churner like me, this is the equivalent of wining the lottery a scratcher. Credit utilization is a big part of your score(30%) and the way it's calculated is by taking all of your open balances and dividing that number by your total credit limits. On average, the lower your credit card utilization rate, the higher your score will be.
As a side note, this part of your score can be easily manipulated if you pay off all your balances(and keep them low) 2-3 weeks before you apply for a line of credit. Try to get as close to 0% utilization as possible and you'll maximize your chances of being approved.
Nearly all banks allow you to request an increased credit line but they almost always do a hard inquiry onto your report. If you only have one or two really old cards, this might be worth it(since inquiries drop off your account completely after 2 years) but in my view you might as well just open a new card if you're going to waste an inquiry. Credit limit increases are usually in the low thousands range if you're lucky while you can easily get a $10,000 limit on your first card with Chase or Citi and that will help your score tremendously over the long run.
Getting Near My Citi Credit Limit
The other reason why I really liked this offer is because I thought I was almost maxed out with my Citi credit. I have 9 Citi Cards open right now(2 Preferred, 1 Executive, 1 AA Amex, 4 AA Visa and 1 AA Visa Business) that have also netted me over 500k points in sign-up bonuses. So it's safe to say I've been a pretty happy customer with Citi. But during my last application for the Citi Executive Card, I had to call the re-consideration line and shift around some credit in order to get approved. It wasn't a huge hassle but by increasing the limits on my current cards, it should give me some wiggle room on my next application.
I got a targeted mailing for this offer but it should be available to anyone. Even though the mailer I got was for a specific card, I was able to apply for credit limit increases on all of my cards. All you have to do is long onto creditlimitincrease.citi.com and make sure you read the fine print. Unfortunately I was so excited at seeing all of my cards listed I just started applying without reading the fine print for each and every card.
For my Preferred and AA Visa cards, the fine print read:
It's easy to find out if you qualify for a credit limit increase. A credit bureau report will not be requested and you will receive an instant decision.
For my Executive Card though, the fine print read:
It's easy to find out if you qualify for a credit limit increase. By clicking "Continue" you understand that we will obtain a credit bureau report to evaluate your request. Our credit department will review your request within 24 hours.
In my haste, I failed to notice the part about the credit report and applied for the increase on the Executive Card first. Once I selected the other cards, I noticed that the text looked a little different and went back and re-read the fine print only to find out I had just given permission to Citi to obtain a credit report. DAMNIT! It wasn't a huge deal since it was only one inquiry and they ended up doubling my credit limit but all the more reason to pay attention. I tried contacting Citi via phone/e-mail right after I submitted but there was nothing they could do.
I ended up being able to increase the limits on all of my cards by anywhere from $1,000 to $4,000.
Editor's Note: I have no financial relationship with Citi other than the fact that they have indirectly paid for a lot of my Hawaiian vacations through their credit card sign-up bonuses. Go Citi!
Readers, do you own any Citi cards that you think might benefit from a credit line increase? A lot of people don't go for these offers since they don't ever spend anywhere near their limit but it actually helps your score to have a higher limit.
How your credit limit is determined</span>"> How your credit limit is determined
You decide to apply for a credit card, go through the application process, and are approved. You receive your card and notice that your credit limit is not what you expected. At this point, you may be wondering how this credit limit was determined. You can learn more about the behind-the-scenes workings of your credit card here.
What is your credit limit based on?
The credit limit is the result of an involved statistical model that takes into account an applicant's credit score, income, debt, length of credit history, rate of application for other forms of credit, and more. The method by which banks and credit card companies set limits varies, but credit scores are a constant and major factor.
An applicant with a strong credit score represents a low-risk opportunity for the bank. The high credit score indicates this individual will likely pay their bills on time. In return, the bank or credit card company will reward them with a higher credit limit.
An applicant with a lower credit score presents more risk. This person may have a less consistent history of paying off debt. Their credit history may also show other creditors turning them down for loans or credit cards. In this case, the applicant could still be approved for a card but with a lower credit limit.

What a high or low credit limit means for your credit score

So, now that you're looking at the limit you've been granted, you have a sense of why it was set there. The good news is that your credit limit, even if it's low, could still benefit your credit score. That's because credit scores are positively affected when more credit is available to the user. However, creditors also need to see that you are savvy with that credit. In order to get the maximum value from your credit, you should avoid maxing out your cards. If you run up your credit cards and use all the credit available to you, that can start to negatively impact your credit score. Carrying smaller balances that you are able to pay off each month demonstrates you are responsible with your money, which boosts your credit score. As time goes on and you use your credit wisely, you may be eligible for an increase in your credit limit.

Apply for a credit card with CIBC

You can choose from a variety of cards that offer travel, cash back, and gas rewards, so that you can enjoy great perks as well as a boost in your credit score. You can apply for a credit card online or contact a CIBC customer service representative at 1-800-465-4653 to get started.