The Best Credit Cards for Bad Credit
Latest Update September 29, 2016
This post contains references to products from our advertisers. We may receive compensation when you click on links to these products. Please visit our Advertiser Disclosure for additional details.
The best credit cards for bad credit are the ones that help you reliably bulk up your credit score until you're able to graduate to card with better terms, be it a lower APR or bigger rewards. Our top picks are all cards that encourage on-time payments by giving easy access to your credit score — and a couple even come with cashback perks.
Earn 2% cash back on restaurants and gas (on up to $1,000 every quarter) and 1% on everything else. Balance transfers get an intro APR of only 10.99% for the first six months, and you can track your FICO score with every statement.
Pay as low as $49 for $200 of credit.
No security deposit, plus the chance to earn cashback rewards.
Pretty much all the best credit cards are designed for people with good or excellent credit scores. If you've got bad credit, you might feel like you're locked out of opportunities to even access a credit line and rebuild your credit history, let alone perks like cashback rewards.
The good news: Many lenders offer what are called "secured cards." You secure the card by making a cash deposit, and in return get access to an equivalent line of credit. After you prove that you can use the credit responsibly (usually over the course of a year), you can get your deposit refunded and graduate to a standard credit card with a higher credit limit and better terms.
Our favorite is the Discover it® Secured Credit Card - No Annual Fee*, which gets you 2% cash back on purchases at restaurants and gas stations, and 1% on everything else. (It also shows you your credit score along with every statement, so you can watch it climb as you make payments on time or in full.) The Capital One® Secured Credit Card is another interesting option, especially if you don't have a lot of cash lying around. Rather than pay a deposit that matches your line of credit, you pay $49, $99, or $200 to earn an initial limit of $200, which increases if you make your first five payments on time. You get access to more credit and your credit score will steadily improve until you find yourself eligible for some of the best low interest cards, best travel cards, best rewards cards and more.
Other lenders offer unsecured (aka standard) credit cards designed specifically for people with bad credit. With these cards, you don't need to make a deposit to get your line of credit — but you still need to use that credit responsibly in order to build your credit score (and avoid the higher interest rates that are typically baked in). A good card to consider is the Credit One Bank® Unsecured Visa® for Rebuilding Credit. It actually has a really reasonable 15.90% – 24.40% APR and opportunities for cashback rewards, but be forewarned: it comes with some tricky fine print you'll want to make sure to read (and agree with) when you get pre-qualified.
How We Chose the Best Credit Cards for Bad Credit
There aren't a lot of credit cards for bad credit out there, which meant we were looking at a limited pool of options. However, even within this small pool, it was easy for a few cards to rise to the top.
Knowing that people with bad credit might have gotten that way because they have trouble making regular on-time payments, we eliminated cards that had a penalty APR. The Bank Americard® Secured Credit Card, the Citi® Secured MasterCard®, the Milestone® Gold MasterCard®, and the Indigo® Platinum MasterCard® will all bump up your APR to as high as 29.99% if you miss a payment, and that penalty APR will apply to future balances as well. Yowch.
The Total Visa® Unsecured Credit Card doesn't have a penalty APR, but its everyday variable APR is 29.99%, so we eliminated that one too. The OpenSky® Secured Visa® Credit Card often shows up on "best secured card" lists, especially because its 17.64% APR is low compared to other secured card options, but it has a penalty APR of 21.75% and comes with a number of hidden fees, including the $10 same-day phone payment fee and a $3 "paper statement fee" if you choose to receive your statement by mail. The primor® Secured Visa and MasterCard will actually tack on up to $49 if you receive a credit limit increase.
That left us with seven top options. Of these seven, the Discover it® Secured Credit Card – No Annual Fee*, the Capital One® Secured Credit Card, and the Credit One Bank® Unsecured Visa® for Rebuilding Credit are our favorites, first because of the benefits they offer, and second because all three cards give you tools to help you monitor your credit score as you work toward better credit.
What Credit Score Will Get a Credit Card With a Large Credit Line?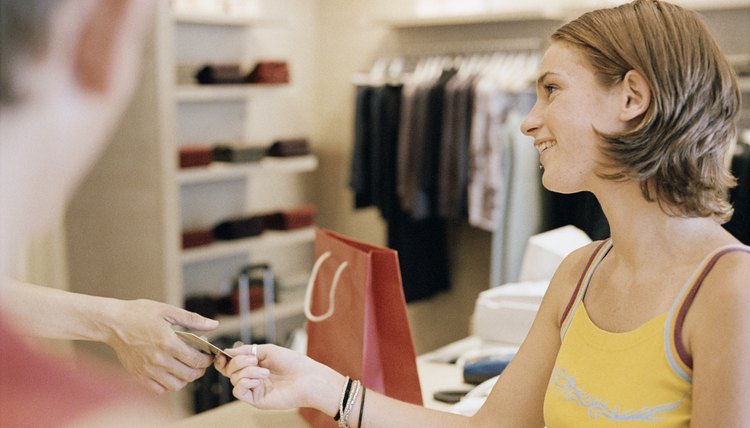 High-limit credit cards are often reserved for consumers with good-to-excellent credit scores. Credit card companies use different methods to determine your limit, such as predetermined limits based on the type of card or credit-based limits that range based on your score. There is no credit score that guarantees a high-limit credit card; however, a higher score will increase your chances. The Fair Isaac Corporation credit-scoring model FICO ranges from a low of 300 to a high of 850.
Commitment to Solving Credit Score Problems Is the First Step to Good Credit
It is always a good idea to keep your credit rating in good standing. It is always a wise idea to consider the pluses of good credit before spending on items that are considered non-essentials. Bills from credit card purchases do not dissipate. Many of us wish that these bills might disappear, but they will not disappear. These bills have to be paid and rightfully so. Paying the bills on a timely basis ensures a good credit rating. Paying the bills on time ensures the ability to have a good or better credit rating, and it ensures the access to borrowing additional funds when needed.
Answering the Question of How Can One Raise His Credit Score within a Time Frame of Six Months
One of the first steps in improving the credit rating is to access what the actual credit scores are. Finding the assigned credit score is easy. One way of doing this is to access the particular assigned credit score on line on a program that offers the service for free.
Next one has to access one of the major credit card score keepers. There are three major credit card score keepers. One is the Equifax Company. Another credit score keeper, which is connected to companies that have reported information into systems about financial credit payments, is the Experian Company. The third major credit card company that knows your past credit rating and history of company's reports on payments and also rates current accessibility to credit is the Transunion Company. These credit bureaus as such receive information from mortgage companies that currently have agreements for financial payments. These three credit reporting bureaus receive information on payments for auto loans, payments on credit card bills, payments for bills for medical care from hospitals, payments for doctors, and any additional bills for services that were needed and were paid for with credit and not paid for with cash.
Raising Credit Scores Can Be Accomplished and Following These Suggested Ideas Will Be Helpful
The first thing to do in this quest for good credit score standing is to be determined to improve your credit rating.
The second thing that one should do is to contact all three main credit card bureaus and see if you can advise them of any inconsistencies that would be in your favor.
The third thing to keep in mind is to always make the payments to bills on time. If you cannot do this, contact the credit company and make at least a partial payment.
The fourth thing to do is consider making all purchases with cash or with debit cards. If one is able to pay more than the minimum payment, then pay more of the principal of the loan.
The fifth thing that you should do is to consolidate as many of the loans as possible. Work on it.
Higher education continues to grow in expense, such that an elitist class of people can only afford to pay for it outright. The rest of the population has to turn to financial aid packages, which regularly include federal Stafford student loans. These loans take up the bulk of a lot of financial aid packages and make it possible for everyone to get a higher education degree. There are a couple of different Stafford loans but only one way to apply for them.
How to apply for a Stafford loan
A federal subsidized Stafford loan means that the federal government pays the interest on your student loan while you are in school at least half time, carrying eight to twelve credits, depending on the institution of higher learning which you attend. Unsubsidized Stafford loans accumulate the interest regardless of whether or not you are in school, thereby compounding the amount you owe to a greater degree and sum by the time you have graduated and finished your degree. Obviously then, you would want to apply for direct Stafford loan that's subsidized first, and unsubsidized second or last depending on what else you can get in your financial aid package.
Every year starting in February, college students can go online to FAFSA.gov to fill out their applications for the following school year's financial aid package. The FAFSA, or Federal Application For Student Aid, is a long and lengthy application when first filled out, but gets easier every year as long as nothing changes in income, assets or other monetary items that would affect aid or the receiving thereof. Students, if under a certain age and still technically under their parents' charge, would have their parents fill it out as it is based on the parents' income tax forms from the previous year and their fiscal picture. If the student is married or independent of their parents' home and can provide proof of such, or if they are a non-traditional older student, parents' income and taxes are no longer necessary to the application. It then becomes the student's responsibility to show proof of need and income and any tax forms they had filed for the previous year. Once complete and FAFSA has received accurate documentation, it takes a few months without corrections to develop an offering of a financial aid package, and the student has to check on the form that they are interested in federal Stafford student loans.
Once a student has finished their degree and graduated, the student loan grace period is two months. Two months are given to everyone to find a job and start paying the loans back. At this point and time the interest will start to accrue unless you have also chosen unsubsidized Stafford loans, which, if you remember, the interest has been accruing all along. If you find that you can not pay your loans back because of financial hardship or can't find a job in your field, there is such a thing as a Stafford loan forgiveness program. This route isn't for everyone; it usually involves extremely stressful and potentially dangerous service in areas of the country or globally where poverty and crime rates are high, even among young adults and teens. For example, taking a job as a teacher in the roughest neighborhood in Harlem or Milwaukee and serving there on staff for x amount of years, the federal government will take note of your service (you have to notify them that you've taken the position, of course!) and completely excuse your loan. If you don't mind this work and want to make a difference in such difficult communities, then this might be the perfect way for you to get your education for "free". There is also an enrollment application for this program in most states, and it can be downloaded from the government's financial aid website or you can get a copy from the college financial aid office. Don't do this though, until you're certain you have a job that qualifies for forgiveness.
Stafford student loans contact number
The Federal Student Loan Support phone line is: (800) 557-7394.
Top 10 credit cards for first time applicants
How to get your first credit card at 18
For first time applicants looking to build credit on credit cards, there are ten credit cards that stand head and shoulders above the pack. If you're a first time credit card holder, your credit card is the number one step to building a payment record. Your credit score may or may not qualify you for car loans, mortgage or lines of credit. And it will determine the rate of interest you're charged if you apply for and receive financing of any kind.
The good news is that changes in credit card laws have been passed with the intent of protecting you and others from rogue lending practices. However, it's up to each individual to make sure their credit file indicates to lenders they are a good or reasonable risk when applying for a loan. Remember to pay all of your bills and expenses on time. All it takes is one or more late payments to lower your credit score.
The following credit cards, which include prepaid debit cards, are great for people with no credit or a limited credit history. It allows them to build credit on credit cards they choose. Federal laws also protect predatory lending practices to people under 21 unless the card applicant can show he or she has the ability to repay.
The following ten credit cards are recommended for first time applicants:
Applied Bank Secured Visa Credit Card – This credit card comes with a moderate price tag. But balance transfers are not allowed and there are redeemable awards for air travel and roadside assistance. There's also a relatively high APR and is available to anyone regardless of credit standing.
First Premier Bank Gold Credit Card – Moderately priced and prohibits balance transfers. Redeemable awards include air travel, cash back and roadside assistance.
Capital One Cash Rewards for Newcomers – This card helps anyone new to the U.S. establish credit and earn cash back in the process.
Capital One Platinum Credit Card ­– There is no first-year annual fee. Personalize your image and get spending notifications through text alerts.
Prepaid Visa Pink Diamond RushCard – Guaranteed approval and free direct deposit. Use the card to pay bills, rent or write personal checks. Transfer money to other cards.
Capital One Cash Rewards Average Credit ­– Cardholders receive a 50% bonus on cash back earned every year. Cash rewards never expire.
Capital One Secured Master Card­ – No application or processing fess required and offers a credit line up to $3000. This is card is accepted a millions of locations around the world. Card holders can also track their own purchases.
Orchard Bank Visa – Accepted a millions of locations worldwide and reports to three major credit bureaus. Check your account information with ease and get reminded of payments by text messages.
Prepaid Visa Black Diamond Rush Card – Guaranteed approval with no credit check. Utilize free deposit and change your fee plan whenever it suits you. Card owners can pay bills and write personal checks. It also offers card-to-card balance transfers.
Prepaid Visa Purple Diamond Rush Card – No credit checks required. Applicants are 100% guaranteed approval. Cardholders can change plans whenever the need arises and there's no fee charged on direct deposits. Use the card to make purchases and pay bills. It also comes with a free prescription card.
First time credit cardholders should make every attempt to use their card wisely. Why? Because they may have their credit card for years and every purchase and payment is recorded on their credit report and will remain there for many years.
Credit scores are checked on everything, from buying a home or renting an apartment, to everyday purchases and applying for a job. Remember to spend wisely if you've been approved for your first credit card. Credit penalties could affect your life for years to come.
How to get personal loans with bad credit
How to get personal loans for people with bad credit
With the economy still struggling and unemployment rates fluctuating, it's one of the worst times in history for someone with bad credit to try to get a loan of any sort. Yet, life still goes on and needs arise. If you already have bad credit, it's never too late to start working on improving your credit rating and one effective way is to build credit on credit cards. Using credit cards for purchases and then paying the monthly payments on time or even paying them off every two months or so will work towards improving your overall credit score. A key to this is not to max-out the credit card or cards, though, as running the balance up to the hilt is just as much of a red flag as is non-payment. Sensibly handling your credit cards will show potential lenders that although you may have had an unfortunate set-back in the past, your current credit record is one of responsibly managing your debt.
Many times it is just as difficult to obtain a credit card as it is a loan when you have bad credit. There are a number of companies now who specialize in guaranteed credit cards for people with bad credit. These companies vary in how they structure their offers. Some are considered "secured" and may operate more like debit cards, having you make a deposit equal to your "limit" and then, although you have money backing your purchases, you will still make monthly payments that will build your original deposit back up. Others are more traditional, being unsecured and not requiring a deposit, but they will charge an inflated interest rate, well above the current going rate for a typical credit card.
It is easy enough to find guaranteed credit cards for people with bad credit. Email inboxes are flooded with offers almost every day of credit cards that are assured approval. You can also use the internet to search several sites that will match a credit card and its benefits and features with your credit situation. Simply fill out a short questionnaire and these sites will present you with several choices of credit cards, secured cards, and pre-paid cards. You just review the aspects of each of them and select the one that is right for you. Most times you can get an approval within minutes when you apply for a credit card using one of these sites and be on your way to re-building your credit within days.
While attempting to build credit on credit cards using guaranteed and/or secured cards is one way to go, there are also more loan agencies now than ever before that will loan to someone with bad credit. Recognizing the difficult situation that a large number of people are in, banks and credit unions are even offering "bad-credit" loans in some circumstances. It is always worth a try to contact the bank you do business with first to see what they might be able to offer by way of a loan. These types of institutions might require collateral to secure your loan, but it will at least provide an opportunity to work on your credit score. The most common types of loans that banks and credit unions offer customers with less than perfect credit are home equity lines of credit and title loans on vehicles. This gives them something tangible to fix the loan to in the event of non-payment. Aside from typical financial institutions, there are many other agencies that can be found online and locally, as well, that are willing to loan to those with bad credit. As with the credit cards, you should expect higher interest rates for lower credit scores but that may be a small price to pay to improve your credit rating.
Can I keep my car if I file chapter 7 bankruptcy
Facing the possibility of bankruptcy is a difficult time for most people. One of the biggest questions people have when contemplating filing bankruptcy is if they can keep their assets. Different kinds of bankruptcy have different benefits and drawbacks when it comes to the debtor. One of the major advantages of filing Chapter 7 Bankruptcy is that it allows you to keep various assets that would other wise be surrendered when trying to pay off debts and filing bankruptcy. Cars and homes are two of the biggest assets that most people have.
One of them most commonly asked questions people have when facing bankruptcy is "Can I keep my vehicle if I file bankruptcy?" Under chapter 7 bankruptcy, the answer is yes in most cases. Chapter 7 bankruptcy allows that as long as the vehicle is owned by the person filing bankruptcy and is worth less than the maximum allowable value for exemption amount of the state that the person is filing bankruptcy in. Different states have different exemption laws, so it is important to find out what the laws are in your state before filling bankruptcy.
The answer becomes more complicated if you do not own the vehicle you wish to keep, either because you are still making payments on it, or because it is a leased vehicle. Laws very from state to state, but, in most cases, if the payments are current than you will be able to keep the vehicle. If you are leasing the vehicle you usually have the option of breaking your lease agreement without occurring any penalties and returning the vehicle or keeping the vehicle under the current terms.
Where your options under Chapter 7 bankruptcy law become complicated is when you are making payments on vehicle you plan to own in the future. Most states give you several options. You can keep the terms of the loan as they are, without making any changes, you can renegotiate the loan or resign the loan under what is called a reaffirmation agreement, or you can agree to pay the lender a lump sum more or less equal to the vehicles current worth, under what is known as a redemption payment. Each state has different policies, so you need to make sure that you understand the law in your state.
In any case the first thing you should do is call you lender and inform them that you are planing on filing on bankruptcy, but wish to keep your vehicle. Your lender may have certain policies for dealing with bankruptcies, and it is important to understand all of your options before proceeding.
Because the law is complicated, it is very important to consult a bankruptcy lawyer when filling for bankruptcy. Your lawyer will have more specific information concerning your case, and will able to provide you with a more specific answer about which assets you will be able to keep, and what you will have to do in order to be able to keep them.
Uncontested divorce with children
Deciding to end a divorce is just as important has deciding to get married, and neither choice should be entered into likely. While no one wants to get a divorce the inevitable is bound to happen. The quickest way to recover is to accept what is about to happen and move on. However, this theory may be a little difficult to do when children are involved. The most important factor to consider in an uncontested divorce is the children and what effect a divorce will have on their well being. They too must learn to accept and cope with a one parent home. However, there are some steps that parents can take to help make the process easier.
An uncontested divorce can work to the advantage of most couples where children are involved. They have the freedom to sat down and come to an agreement on issues that will ultimately impact their present and future well being. The court may recommend that the children involved participate in my parent is getting a divorce class. This will help them realize that they are not the blame for the separation, and they still have both parents, but in separate homes.
Separate homes usually mean custody issues. Both parents will more than likely share custody, and in some cases only one parent is given full custody of the children. If this is the case the other parent is required to pay child support. This amount can be reached outside of the courtroom by both parties or inside the courtroom by a judge. High debt and uncontested divorce is a workable plan that can work in the best interest of the entire family. If high debts need to be resolved, work out a payment plan with the creditor. Agree to pay a reasonable amount in child support. If the court insists on insuring the children, placing them on the job's insurance plans are a lot cheaper.
Sell off as much property as necessary; if it is of no use to neither party, take the money and pay off debts that could affect both parties in the near ahead. Eliminating financial debt before getting an uncontested divorce means that children can look forward to financial support in a timely manner and both parties are practically debt free. Most couples will have already worked this part out before they enter the courtroom and ask for an uncontested divorce with children.
How much would an uncontested divorce cost?
There can be a large variance in the cost of an uncontested divorce. Attorneys are known to advertise anywhere from $90 to $1000. Generally the lower rates are for a very specific uncomplicated case and will go up in large increments if children or other complications arise. Getting an attorney that offers a flat fee for uncontested divorce is your best bet. The court fees for filing your divorce will vary from state to state. It is generally around $250.00 to file for a divorce with the court. You will need to check with your local courthouse for exact filing fees in your area. If uncontested divorce is at all possible it is in the best interest of everyone involved and in the long run will save you a bundle of money.
What property can I keep after a chapter 7 bankruptcy?
Deciding to file for bankruptcy is a difficult decision that most people try and avoid if at all possible, especially since filing stays on one's credit report for 10 years. But for many circumstances force their hands and bankruptcy becomes inevitible. Under Chapter 13 Bankruptcy, debtors pay back debts over an extended period of time, but when that isn't possible some will file for Chapter 7 Bankruptcy which will cancel many of their debts.
However, just because someone has filed a Chapter 7 Bankruptcy doesn't mean they can live in luxury. Filing a Chapter 7 Bankruptcy is a humbling experience, one that requires many to scale back to the necessities, take inventory of their possesions and prioritize their lives. Excessive posessions will be liquidated in order to pay creditors at least a portion of what is owed.
But of course, no one expects people to live with absolutely nothing. For this reason there are limits on what property one is allowed to keep. Many people find these limits quite reasonable, and well worth the peace of mind that comes from no more collection calls.
Exact values of what is allowed can vary somewhat depending on what state a Chapter 7 Bankruptcy is filed in.
The first thing you get to keep is $20,200 of value in your residence. This means those with a large amount of equity in a home, may need to refinance to pay off some bills before being condisered. However, for those who rent, this should not be a factor.
You are also allowed to keep your vehicle valued up to $3225. This is the Market Value, minus any loans against it. Household items values at up to $10,775 are also considered exempt, except no individual item can be valued at more than $525. Jewlery and heirlooms up to $1225 may be kept. Tools of the trade, valued to $1850 may be kept, this includes anything which is deemed necessary to earn one's livelihood.
You may also continue to receive a reasonable amount of alimony or child support, and public benefits, such as unemployment, worker's compensation, Veteran's benefits or social security are also safe. Retirement accounts, such as 401Ks, should also be left in tact.
In addition to liquidating assets down to these levels, filers of Chapter 7 backruptcy must also meet median income guidelines, and complete credit counseling before filing.

A business credit card and a line of credit are two common short-term financing options used by small businesses. Business owners use business credit cards and lines of credit to cover similar working capital needs, such as office expenses, vendor payments, and inventory. In this article, we'll compare a small business credit card vs line of credit, and explain why having both is a good idea.
Kabbage, sponsor of this article, offers a small businesses line of credit of up to $150,000. There's no cost to set up your line of credit, no obligation to draw funds if you qualify, and you pay only for the funds you actually use.
A business line of credit is a flexible financing option from a bank or private lender. A line of credit gives small business owners access to funds that can be drawn on as needed. Interest is charged only on the capital used (after funds are drawn) and not on the line of credit extended. Businesses have a predefined period of time to repay the amount borrowed, typically 6-12 months.
You can think of a line of credit like a hybrid business credit card and loan option. This is because a line of credit can be revolving, similar to a business credit card. When applying for a line of credit, you'll typically receive a credit amount up to $150,000. From there, you can draw on that line of credit as needed, much like a credit card. You're not required to use it.
Some providers of small business lines of credit charge fees in addition to the interest charged on borrowed funds. These fees may include:
Origination fee between 1% – 5%
Draw fee each time a draw is taken, typically around 1%
Annual service fee if you don't take a draw, typically around 1%
Kabbage, however, does not charge origination, draw, or annual services fees. For small business owners who like the idea of having a business line of credit just in case, but don't have an immediate use for the fund, Kabbage can be a great option.
Once you've drawn down all or part of your line of credit, the amount you borrow is repaid as a term loan. The typical repayment term is between 6 – 12 months per draw, where you'll be charged a fixed monthly fee between 1% – 10%. This translates to an APR between 20% – 50%.
The funds you draw from a line of credit can be used to cover payroll, rent, and other working capital needs that a credit card may not be a good option for. Since you only pay if and when you draw on the line of credit, they are an especially good option for seasonal businesses, businesses with unpredictable cash flows, or businesses taking on new projects where the total costs are unknown until completion.
Kabbage finds that their customers often use lines of credit to manage cash flow while they wait on their accounts receivable. With lines of credit of up to $150,000 and no cost or obligation to draw funds if you qualify, a Kabbage line of credit gives business owners a high degree of flexibility as they grow. Prequalify online in minutes.
A business credit card is a credit card tied to a business and used to make business-related purchases. A business credit card, like a consumer credit card, gives a person access to a credit line that can be used as needed. Expenses are required to be paid off monthly and all outstanding expenses are charged monthly interest until repaid.
It's common for small business credit cards to have a credit limit between $10k – $50k+. Like a line of credit, a business owner can use some or all of that credit limit as needed. However, unlike a line of credit, a business credit card doesn't have a predetermined timeline for repayment. They do, however, set a minimum monthly payment which typically reflects a percentage of the outstanding balance (usually 1-3%).
Any balance not paid off within a month are charged an APR between 21% – 24%. Some small business credit card accounts have an annual service fee. Further, these accounts will also sometimes charge a fee for each additional employee card issued.
The typical annual fees can range from $0 – $500 per card and/or per account. Higher fees generally translate to more robust rewards programs (cash-back and travel rewards) and greater perks. Determining whether those perks and rewards will be worth the annual fee can be difficult and will depend greatly on the card and your business's spending habits.
A business credit card is therefore a good option for business owners who want to earn rewards and manage employee expenses. This is because multiple cards can be issued to a single account, and all of these cards have the potential to earn points or cash back for purchases made on the card.
If you already have a small business credit card and want to increase the amount of revolving credit your business has access to, get prequalified online for a line of credit with Kabbage. There's no cost or obligation to draw funds. Lines go up to $150k.
Business Credit Card vs Line of Credit
There are many differences between business credit cards and lines of credit. While both offer short-term credit lines and typically require personal guarantees, each of these financing options has their own benefits and drawbacks. Specifically, business credit cards and lines of credit have 3 major differences:
The major difference between a business credit card and a line of credit is access to capital. This is due to two reasons. The first is that a line of credit will typically have a larger maximum credit limit than a business credit card. It's common to find lines of credit up to $150,000+ while business credit cards typically have limits between $10,000 – $50,000+.
The second is that when you draw from a line of credit, those funds can be deposited as cash into your account. By comparison, a business credit card is usually only used for credit. It's possible to get a cash advance, but that amount is usually limited and the fees associated with it are costly.
The repayment schedule of a business credit card vs line of credit is also a key difference. For example, a business credit card requires minimum monthly payments. However, it's possible to float a balance as there's no predetermined repayment schedule. Conversely, a line of credit is treated more like a loan and has a fixed repayment schedule, between 6 – 12 months, typically.
This makes a business credit card more flexible in terms of repayment. While a monthly fee is charged on outstanding business credit card balances, a cardholder is only required to make monthly minimum payments equal to 2% – 4% of the outstanding amount. However, there are some cards called business charge cards that require balances to be repaid in full every 15 – 30 days.
This is in contrast to lines of credit, which act more like loans when it comes to repayment. Even though you can use a portion of your line of credit, each draw is treated as a separate "loan," which is repaid evenly over a period of 6 – 12 months. There is no option to float expenses beyond that timeline or to make "minimum payments."
Lines of credit can require daily, weekly, or monthly repayments. The most common type of repayment schedule is typically daily or weekly. However, Kabbage offers lines of credit with monthly repayment terms. This can help you manage cash flow and makes the total cost of borrowing competitive with business credit cards.
For example, let's say that you have a $50,000 line of credit with a 2% monthly fee. You decide to use $5,000 in January and $5,000 in March. The first draw is repaid monthly from February to July with an initial monthly amount of [$5,000 principal x (1/6 months)] + ($5,000 principal) x (2% monthly fee) = $1,100. The second draw is repaid monthly from April to September with the same initial monthly amount of $1,100.
This means that your monthly payments will overlap for the months of April to July. However, you can pay back your borrowed amount at any point during the predetermined payback period without paying a prepayment fee.
Since you only pay a fee during the months you have an outstanding balance, Kabbage customers can save money by paying early. This can make a line of credit's cost of capital lower than a business credit card. Below is a breakdown of minimum repayment schedules for Kabbage's 6- and 12-month lines of credit.


The final major differences between a business credit card vs line of credit are the fees and rewards. A business credit card typically has a rewards program where businesses can earn cash back or points redeemable for travel and other expenses. By comparison, a line of credit may not come with these perks.
Business credit cards with significant rewards programs will typically have an annual fee associated with each card. This is to compensate for the rewards that the card offers. Kabbage, on the other hand, doesn't charge an annual fee. Although, some lines of credit might have an early repayment penalty or an annual service fee if you don't draw on your credit line.
When it comes to APR, prime borrowers are able to get an effective line of credit APR around 20%. However, the typical range of APRs is between 30% – 50%, depending on the monthly fee and the repayment schedule. For a line of credit, the higher the fee and the longer the repayment, the higher the APR.
By comparison, the APR on a typical business credit card is around 21% – 24%. However, while APRs are an industry standard and useful for comparing lending products like mortgages, it's important to consider the total cost of borrowing when you're considering a short-term loan.
To help you get the best understanding of a business credit card vs line of credit, check out the side-by-side comparison below. After the table, we'll dive into the specific instances when you'd want to use a line of credit, business credit card, or both at the same time.